WINTER Hours as of November: Tuesday 10am-noon; Thursday 2-4pm; 1st and 3rd Saturdays 9am to noon.
Winter Weather Closing:   Whenever we are experiencing extreme weather, please check here, Google Business, our Facebook page or call to hear our outgoing message on our phone line to find out if we're open.    If it snowed within the last 24 hours, we may not be plowed out yet.  If with or without wind chill its predicted to be single digits during our open hours we will NOT be open.
Building drop off: You can drop off 2 boxes but they MUST close and MUST be 30 lbs or less.   We are going to start rejecting those that don't meet this criteria.  We simply can't manage the literal ton of material dropped off on each open day if it's not packed correctly.  Thank you for your help.
Welcome! We accept curbside recycling items, textiles and many hard to recycle items (some with a fee), but we also have tons of free items for reuse.   We hold document shredding, latex paint and household hazardous waste collection events a few times per year for residents of our member towns: Boylston, Holden, Paxton, Princeton, Rutland, Sterling and West Boylston.  Read on for more information, send us a message, give us a call, or check out our Facebook page.
We are NOT a transfer station or brush dump.  DEP regulations prohibit us from accepting kitchen/picnic/food trash or lawn/brush waste or creosote lumber.
Site Entry: Everyone must go through Check In.  Please have your face masks on as you approach the Check In station.  You may remove it while outside.
ReUse Building Entry:  Masks are no longer required inside the ReUse building.   We currently allow 30 people into the building for 15 minutes at a time.
ReUse Building Drop Off:  Drop off is at MIBOX unit along the exit road.   Items MUST be in boxes with closed lids.  Please read the post below: ReUse Building.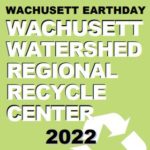 VOLUNTEER INFO

Yes! We need your help
As an almost completely all-volunteer operation, we rely on our volunteers to keep the site open. Please consider helping out, if only for one slot/week (or month). We are friendly, welcoming folks.
New Fee Search Available
Use Search Box to find items. You can also sort results by Item or Fee.
Items
Fee
Appliances, Countertop: Microwave, Coffee Maker, Toaster, Toaster Oven, Soda Maker, Mixer, Bread Machine, Crock Pot, Slow Cooker, Air Fryer, Deep Fryer, Rice Cooker, Waffle iron etc

$ 3
Appliances, Floor: Vacuum, Steam Cleaner
$ 3
Appliances, Large: Washer, Dryer, Stove, Water Heater, Dishwasher
$ 5
Appliances, Large with Refrigerants: Full sized Refrigerator/Freezer, or Stand Alone Freezer

$20
Appliances, Medium: with Refrigerants: Dehumidifier, Air Conditioner, Dorm Fridge

$15
Area Rug or Rug Pad - up to 12'x12'
$10
Electronics, Miscellaneous: Adapters, Cables, Wires
$ 1
Electronics, Small Handheld: Cell Phone, Stick Mixer, Game Console, Calculator, Iron, Digital Camera, Hair Dryer, Curling Iron
$ 1
Electronics, Small Office: Tower computer, Small Printer, PC, Kindle, Tablet, E-Reader, Calculator, Keyboard, Mice, Small Shredder, Router, Web Cam, Landline phone
$ 2
Electronics: Medium Office: Laptop, Monitor, Large Printer, Copier, Battery Backup, Cable or Satellite Receiver, Fax Machine, Label Maker, Laminator, Modem, Scanner, Large Shredder, Server
$ 5
Electronics, Entertainment: Stereo and Video Components, DVD, VCR, Speakers, Camcorders, Blu-Ray Players, Cordless Phones, Digital Cameras, Digital Projectors, GPS, MP3 Players
$ 2
Electronics: Televisions regardless of size
$20
Exercise Machines: Cross Country Ski Machine, Stair Stepper, Elliptical Machine, Exercise Bike
$ 5
Sports Equipment: Skis, Golf Clubs, Out of Season Sports Equipment
$ 2
Fire extinguisher
$10
Furniture: Wooden Chair, Non Upholstered Rocking Chair, End Table, Coffee table, TV Tray, Small Bookcase, TV Stand, Kitchen Cart, Mirrors, Single Headboard any size
$ 3
Furniture: Kitchen Table, Bookcase, Desk, Office Chair, Ottoman, Rocking Chair or Glider, Twin or Full Wooden Bed Frame
$ 5
Furniture: Upholstered Chair (not recliner or sleeper) Bureau, Dresser, Entertainment Center, Dining Table Queen or King Wooden Bed Frame
$10
Furniture: Couch, Love Seat, Sofa (Not sectionals, recliners or sleepers)
$20
Reclining or Sleep Furniture: Sofa, Couch, Loveseat or Chair that Reclines or is a Sleeper
$30
Sectional Furniture: Each piece evaluated independently (Chair, Recliner, Couch, Sleep Sofa, Sofa etc)
Variable - see each piece
Garden Hose

$ 2
Baby Items: Carrier, Bassinet, Changing Table, Crib, Crib Mattress, Bouncers, Pack N Play, Diaper Genie, High Chair


$ 2
Baby Items: Car Seat,
$ 3
Home Project Debris: Concrete, Bricks, Tile, Shingles, Wall Board, Windows, Carpet and Pad, Wood
$50 per cubic yard
Home Project Debris; small miscellaneous
$ 1
Home Project Debris: Interior Wood Door, Pallet
$ 2
Home Project Debris: Exterior Wood Door
$ 5
Home Project Debris: Sink or Toilet
$ 5
Home Project Debris: Tub
$10
Home Project Debris: Hot Tub/Pool Cover or Liner
$10
Home Project Debris: Hot Tub or Spa

$30
Small Quantity of Mixed Alkaline and/or Rechargeable Household Batteries
Free
Car or Marine 12V battery, Motorcycle, Tractor, Power Wheel Battery,Battery Backup Battery, Jump pack
$ 3
Bucket of Mixed Alkaline and/or Rechargeable Household Batteries
$20
Fluorescent and LED Bulbs and Tubes
Free

Mercury Switches, Thermostats and Thermometers

Free
Large and small ink cartridges
Free
Luggage
$ 2
Small tools: Hand Drill, Circular Saw, Sawsall
$ 1
Outdoor Tools and Equipment: Grill, Wheelbarrow, Trimmer,
Chainsaw, Spreader, Leaf Blower, Power Washer, Table Saw, Compound Miter Saw, Radial arm Saw, Band Saw, Drill Press
$ 3
Outdoor Tools and Equipment: Rototiller, Push Lawnmower, Push Snow Blower

$ 5
Outdoor Tools and Equipment: Riding Mower, Large Snowblower
$10
Patio Umbrella

$ 2
Bulkly Rigid Plastic: Small Miscellaneous
$ 1
Bulkly Rigid Plastic: Chair, Table
$ 3
Bulky Rigid Plastic: Chaise, Lounge Chair, Ride On Motorized Toy Car
$ 5
Bulky Rigid Plastic: Slide, Playhouse, Deck Box, Cabinet or Shed
$10
Propane Tank - Full or Empty 1 Pound
$ 2

Propane Tank - Full or Empty 20 Pound
$ 4

Propane Tank - Full or Empty 30 to 60 Pound
$10

Propane Tank - Full or Empty 100 Pound
$20
Mattress - Twin
$15
Box Spring - Twin
$15
Mattress - Full or Queen
$20
Box Spring - Full or Queen
$20
Mattress - King
$25
Box Spring - King
$25
Futon Mattress or Mattress Topper (all sizes)
$15
Recycling: Corrugated Cardboard Flattened, empty
$ 2 Min charge
$ 5 Car load
$ 8 cu.yd. Truck load, bulk
Recycling: Mixed Containers: Plastics #1 - #7, Metal and Glass
$ 1 Min. charge
$ 2 plastic bin or bagful

Recycling: Mixed Paper, including fiberboard boxes - NO tissues, paper towels, hardcover books, plastic bags or used cups/plates
$ 1 Min charge
$ 2 Plastic bin/bag full
$ 8 cu.yd. bulk


Styrofoam: #6 Clean White Packing Styrofoam. No food/drink Styrofoam.
Free

Tires up to 19", with or without rim
$ 6
Truck Tires, Commercial
$25
Large Equipment Tires, Loader tires
Not Accepted
Household Hazardous Products (HHP): Chemicals, oil, spray paints, insecticide
ONLY accepted on HHP Special Collection Days
Latex Paint: If not latex with alkyd, dry out and place in your regular trash. Or bring on Latex Collection Days . Alkyd added are only accepted on HHP days
Only accepted on Latex Paint Special Collection Days
ReUse Items: Current Holiday / Seasonal items, Arts and crafts, school supplies, Fabric, yarn, sewing, knitting supplies, Toys, stuffed animals, puzzles, games, • Sporting goods: shoes, boots, helmets, Accessories: hats, scarves, gloves, mittens, purses, backpacks, Entertainment: CDs, DVDs, records, Books. NO moldy / mildewed, Office supplies, greeting cards, gift wrap, party supplies, Home Improvement and Hardware, Eyeglasses
Free
ReUse Items: Clean metal, plastic and glass containers with lids. NO takeout containers, Dishes, pans, utensils, glassware, baking pans, bar ware, art, vases
Free
ReUse Items: Packing Peanuts, Packing Pillows, Thin Foam, Packing Paper etc
Free
ReUse Items: Home medical equipment - NOT electronic
Free
Bicycles
Free
Deposit/Returnable bottles and cans
Free - Leave in the Scout Shed
ReUse Items: Clean and dry home textiles:
linens, blankets, curtains, towels etc.

Free
Textiles: Clean, dry clothing belts, shoes, purses etc
Free - Place your tied plastic bags of textiles in the textile bins
Scrap metal & other metal items
Free
Not Accepted: Sheet plastic, plastic shopping bags
Bring to a Grocery Store to be recycled.
Not Accepted: Broken fluorescent bulbs or tubes
Dispose in home trash
Not Accepted: Audio cassette or VCR tapes
Dispose in home trash
Not Accepted: Smoke detectors with removeable battery
Remove battery and dispose of the smoke detector in home trash
Not Accepted: Incandescent light bulbs
Safe to dispose of in home trash.
We can NOT accept: Creosoted wood, yard waste, food waste or household garbage
We are not a transfer station and cannot accept these items. Contact your Town for options
Site Information – July 2021 through June 2022